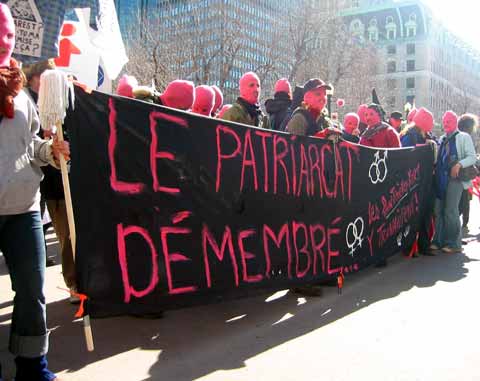 JOIN THE PINK BLOCK
during the International Women's Day March on March 7th!

The Queer mutiny continues! As determined as ever to fight the heterosexist powers choking our society and the gay powers which prefer basking in their privileges instead of confronting global injustices (namely sexism and heterosexism), the PINK PANTHERS are calling all queers and allies to join the radical queer block at the International Women's Day March on Sunday, March 7.

The meeting spot is:
* At Dorchester Square (corner of René-Lévesque and Peel)
* On the north side (towards St-Catherine)
* Between 12:00 p.m. - 12:30 p.m. (the official march leaves from the square at 1 p.m.)

The Plan: Distribute pink balaclavas and flyers, finish the radical queer flyer, chat and wait for the departure.

Come alone with friends, but be there!! The tyranny of sexism and heterosexism will not crumble on its own!

Send us your questions for more info,

Les Panthères roses / the Pink Panthers: lespantheresroses@yahoo.ca