POUR DIFFUSION IMMÉDIATE

Le 14 février 2004
Opération «Pepto-bismol SVP!»

Montréal- L'Opération « Pepto-bismol SVP! » que le collectif des Panthères roses avait préparé pour dénoncer la Saint-Valentin ultra-commerciale s'est déroulée comme prévu en fin d'après-midi dans le Village gai. Après s'être appliqué à vomir dans les magasins et bars des hommes d'affaires gais les plus prospères du village, les membres de ce groupe queer radical ont inondé le secteur de faux coupons-rabais [voir ici-bas], symbolisant le règne du dollar rose et la mise au pas des gais et lesbiennes dans la société actuelle.

Avant de vomir sur le plancher du magasin Priape, Amélia qui est membre des Panthères roses avoua que la tempête publicitaire qui était faite autour de la St-Valentin, et des autres grandes fêtes annuelles, lui levait le cœur royalement : « Les industries me font sentir super «cheap» si j'exprime mon amour à ma copine d'une autre façon qu'en lui achetant un cossin quelconque. Ça nous dégoûte tellement tout ça que cette année, va vraiment falloir s'offrir du Pepto-bismol à la place ».

Avant de vomir sur le plancher du magasin Wegavideo, un autre membre des Panthères roses révéla que la chose qui l'enrageait le plus était l'appropriation, par les gros marchands, des sentiments tels que l'amour et la liberté, qui appartiennent depuis toujours à tout le monde et n'auraient jamais dû devenir conditionnels au geste de consommer. Toujours selon lui, les multinationales et autres profiteurs de la St-Valentin mènent des activités dont la nature même (compétitivité, compression des salaires, pompage des ressources naturelles) n'aurait rien à voir avec l'amour de l'autre, mais bien plus avec l'amour maladif de soi, contraire justement à l'esprit saint-valentien.

Après avoir vomi elle aussi et pendant qu'elle distribuait ses coupons-rabais à l'apparence d'un dollar rose, une des activistes confia que le puissant mal de cœur qui l'affligeait provenait plutôt de la nouvelle élite gaie, qui s'en mettait plein les poches tout en brandissant en toute hyprocrisie sa mission communautaire... Plus à un paradoxe près, ces hommes d'affaires se feraient même les meneurs énergiques de l'émancipation, alors même que leur pouvoir phallocrate tend à exclure toute personne qui ne serait pas un homme de couleur blanche...

Pour toutes ces raisons, les Panthères roses ont mal au cœur et vous en supplient: faites-leur boire du Pepto-bismol!

Vive la St-Valentin... sans achat!
Vive l'émancipation gaie... sans achat!

-30-
Le collectif des Panthères roses est un groupe de queers radicaux implanté à Montréal, qui utilise l'action directe et créative pour confronter l'ordre établi.
Infos : lespantheresroses@yahoo.ca

Coupons recto-verso distribués le soir de la St-Valentin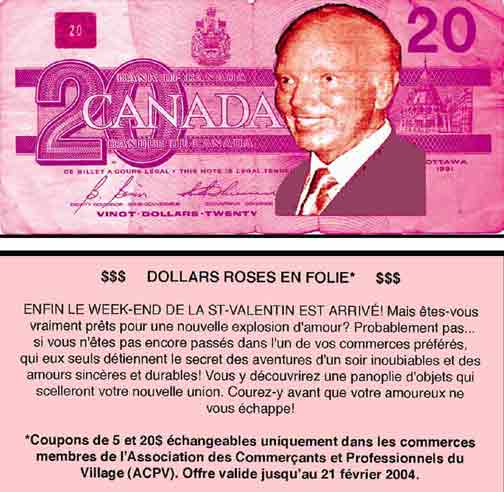 14 February 2004
Montréal- Operation "Pepto-Bismol Please!", designed by the Pink Panthers collective to denounce the commercialization of Valentines Day, took place as planned late this afternoon in Montreal's Gay Village. After puking on the doorsteps of the Village's most prosperous shops and bars catering to gay businessmen, members of this radical queer group flooded the neighborhood with counterfeit coupons [see below], symbolizing the reign of the pink dollar and the capitalist compliance of today's average gays and lesbians.
Before vomiting on the step of the shop Priape, Amélia, a member of the Pink Panthers, confessed that the whirlwind of commercial publicity surrounding Valentines Day really got her gut: "Businesses make me feel like I'm really cheap if I express my love for my girlfriend in any other way than by buying her some meaningless object. We're fed up, so this year we're giving eachother Pepto-bismol instead!"
Another member of the Pink Panthers, before vomiting on the step of the store Wegavideo, revealed that the most infuriating thing for him was the capitalist appropriation of emotions like love and liberty, which have always belonged to everybody and should never have become dependant on consumption. He feels that multinationals and others who profit off of Valentines Day are doing something that by its very nature (competition, salary reduction, waste of natural resources) has nothing to do with the love of another person, but rather with an unhealthy self-love that is completely at odds with the spirit of Valentines Day.
While distributing the pink-money coupons after puking, one of the activists admitted that what upset her the most was that the source of the problem was now the new gay elite, who were filling their pockets while flaunting their community's mission. Even more hypocritically, these businessmen make themselves out to be the most enthusiastic proponents of gay liberation, while at the same time using their phallocentric power to exclude everyone who is not a white man…
For all of these reasons, the Pink Panthers are sick at heart, and they entreat you: Pass the Pepto-Bismol!
Long live Valentines Day… without shopping!
Long live gay liberation… without shopping!
-30-
The Pink Panthers collective is a group of radical queers based in Montreal, who use direct and creative action to confront the established order.

Info : lespantheresroses@yahoo.ca
Counterfeit coupons_ recto-verso
[english translation below]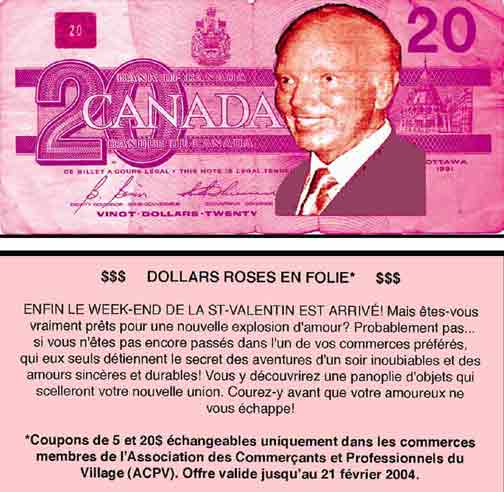 Pink Money Extravaganza*

It's Valentine's Weekend at last ! But are you ready for a real love explosion? Probably not… if you haven't been to one of your favorite business establishments, which are the sole keepers of the secret to an unforgettable night and a true and lasting love! Come and discover a wide range of items to spice up your new union. But hurry, before your lover gets away!
*Coupons worth $5 and $20 redeemable only in member stores of the Association des Commercants et Professionnels du Village (ACPV). Offer valid until February 21st, 2004.