[10.05.2007]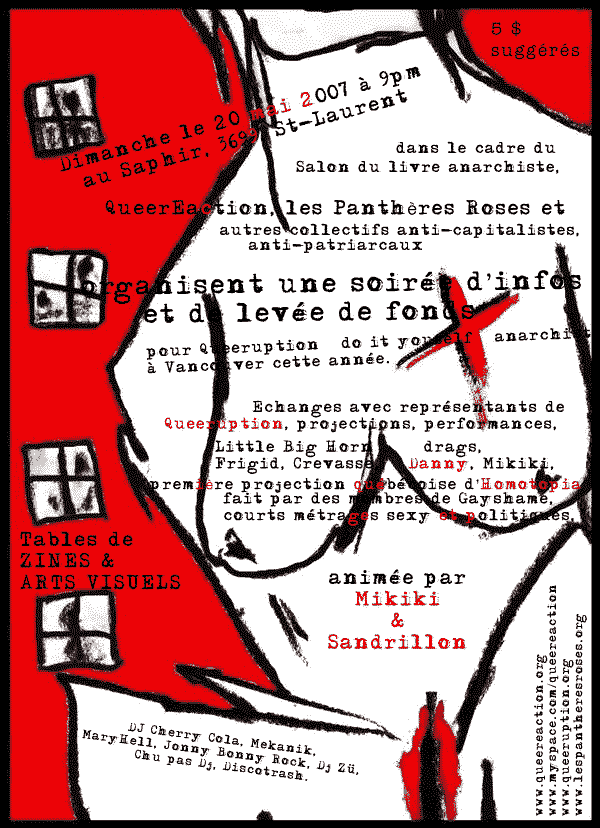 SUNDAY THE 20TH OF MAY
A benefit event for
Queeruption-Vancouver
during the Anarchist Bookfair Week-end

At the Saphir
3699 St.Laurent
(corner of des Pins)
Suggested donation: 5$
(but no one will be turned away)
Starts at 9PM
ON THE PROGRAM...
-presentation of Queeruption 10 by a Queerupter from Vancouver
-screening of Homotopia, a video made by members of Gayshame
-trash drag performances...
-open mic
-and then, everyone on the dancefloor!!

To get more infos on Q10
visit www.queeruption.org
For infos on the Anarchist Bookfair
you can visit www.anarchistbookfair.org

==========================


[15.03.2007]

AUGUST 1 TO 7 - 2007
QUEERUPTION VANCOUVER -Q10
Queeruption is a radical, free, DIY, queer gathering that happens in a different city around the world each year. Each Queeruption is a bit different, but in general Queeruption aims to bring together a diverse group of queers from all over who wish to challenge the racist, sexist, classist, consumer-oriented gay mainstream.

- READ MORE -
========================


[15.08.2006]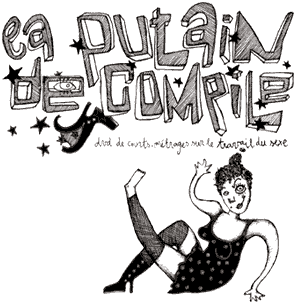 Neither victims Nor culprits
WE WANT TO HAVE FUCKING RIGHTS!
- DVD compilation on the sex work -
In full concoction, the DVD project on the work of sex aims to make us hear the voice of sex workers who reject the victim position transmitted openly in public debates and traditional medias and, consequently, in the public interpretation.
- READ MORE -
========================
[07.11.2006]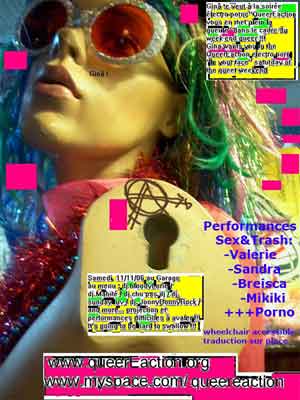 FRIDAY 12th November 06 - 8pm
QUEEREACTION WEEK-END!
at the GARAGE
2090 Moreau Street
Métro Frontenac

*** Opening party ***
QueerEaction Week-end !!

- READ MORE -
===========================